Frequently Asked Questions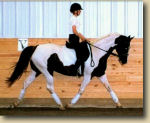 Q: Saddlebreds are gaited. How can they be sport horses?
A: All Saddlebreds are born with the ability to walk, trot and canter. Some also have the ability to be trained to do two extra gaits–the slow gait and the rack/single foot. Only about 10% of all Saddlebreds show in the 5-gaited divisions. The rest are used in disciplines requiring only the three basic gaits. They excel in many sports from the saddleseat show ring to eventing, dressage and even western games.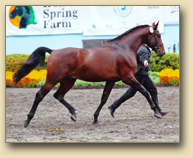 Q: Saddlebreds are high-stepping horses. Can they also have sport horse movement?
A: Yes! Believe it or not, the Saddlebred's ability to trot "above level" can also produce lovely sport horse movement. Saddlebred breeders traditionally breed for a shoulder free enough to bring the forearm way up when combined with a very upright headset, specialized training and, often, special shoeing. Good breeders also pay close attention to the horse's ability to drive from the hocks. When trained in a non-saddleseat fashion, these same natural traits produce the beautiful free movement sought after in the sport horse disciplines.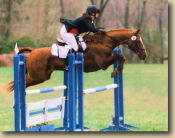 Q: I've heard Saddlebreds can't jump. Is that true?
A: Who told you that? Saddlebreds in general are excellent jumpers. Over the years, Saddlebreds have found success in every jumping sport. They excel in the jumper ring and in eventing. They also make elegant show hunters and handy field hunters.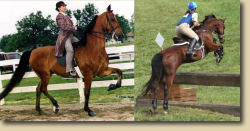 Q: Can a horse trained for saddleseat be retrained as a sport horse?
A: In many cases, yes. There are any number of Saddlebred sport horses out there who started life in the Saddleseat world. You will need time and patience to teach the horse to stretch forward into the bridle and move over his back but it can be done. Some horses retrain faster than others. It depends on their temperament, conformation and previous training.




Q: Are Saddlebreds as hot and crazy as I've heard?
A: Would you let your child ride a crazy horse bareback in a halter? Like all breeds, temperaments and training vary from horse to horse. In general, Saddlebreds are people oriented, curious and active. They are willing and try hard to learn and please. Saddlebreds can be children's mounts, trail horses, therapeutic horses and police horses. They are the preferred buggy horse of many Amish, who need a horse who is completely traffic safe. Saddlebreds are trained to be fiery and exciting in the show ring, but they can also be solid, steady, even bomb-proof mounts.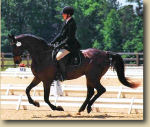 Q: How do I find a Saddlebred sport horse?
A: Well, of course, the first place we'll advise you to look is in our classifieds. However, you can also find a number of quality horses in other on-line classifieds such as Agdirect and Equi-search. If you are looking for a baby, contact breeders in your area. The ASHA can help you locate them. We also recommend checking with organizations like www.saddlebredrescue.com to give a good home to a horse in need.


We specialize in making just the right match for you, with your new American Saddlebred sport horse. Email us and we'll do our best to find you your next partner, and best friend.