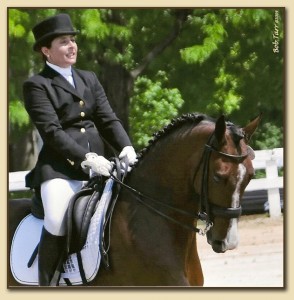 Forty Something, owned by Jody Swimmer, is a 10 year old Saddlebred gelding.  Forty is one of our "hottest" horses in the barn, meaning is very electric off the leg which makes him like a little sports car to ride!  Chrissa Hoffmann started him as a 4yr old, from a saddleseat barn in the Louisville area.  She had to retrain everything he knew as a saddleseat horse.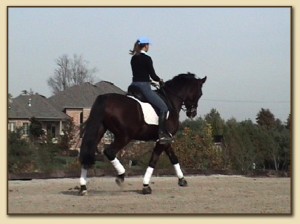 .
.
.
.
.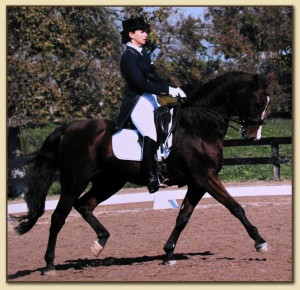 Four years later, Chrissa showed him 3rd level in Spring of '08 with scores in the 60's.  After spending 3 months in Florida with Chrissa, he returned to compete Third level test 3 with Jody receiving a 64.3% earning her last score needed for her USDF Bronze Medal!   In October of 2009, Chrissa showed "Forty" in his first PSG class earning a second place ribbon with a 62.6%!


Chrissa Hoffmann schooling Forty Something.
_______________________________________________________________________________________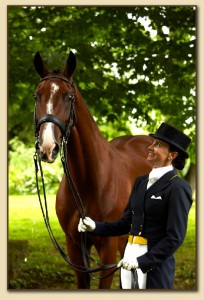 25th Edition of The Saddlebred
Chrissa and Forty Something,  were invited to participate in a photo shoot, for the 25th edition of The Saddlebred, a book produced and written by Judy Oetinger, of Prospect, KY.  Both Saddlebreds, Harry Callahahn and Forty Something, trained and shown by  Chrissa are featured.  Harry Callahan was trained and shown successfully to Grand Prix and Forty Something now to Prix St Georges!  Both Saddlebreds, to date, are the highest scoring saddlebreds competing at the FEI levles of dressage!  Photograph taken by Todd Buchanan, a professional equine photographer of MN.  Book will be binded and ready for WEG 2010!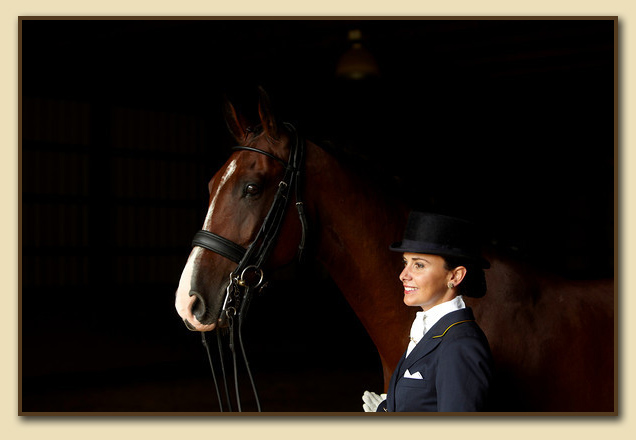 Thank you to Chrissa Hoffmann for this news.