Discipline: Breeding Divisions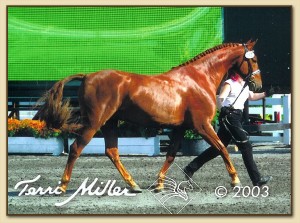 From the very first, the American Saddlebred has done his owner proud. Whether carrying him into battle, across a plantation in style, or into a show ring, the breeds' athleticism and beauty has been a constant. From Traveler to Fury, Flicka to My My, Appomatox to Hollywood, and back to Louisville, the Saddlehorse has risen to every occasion, and filled every bill. Anyone who is an afficianado of the breed is familiar with all of the divisions in which American Saddlebreds traditionally are shown, but the time has come to recognize the areas in which the breed has excelled unheralded for years; the Sporthorse disciplines.
As the Europeans, with their Warmbloods of divergent, yet essentially similar, bloodlines came to the fore in the Olympic Games, horses like "Jacks or Better", an Olympic Show Jumper for the US and winner at Aachen in 1964, and an American Saddlebred, and "American Lady" an American Saddlebred Olympic Dressage horse, were left to history, and the United States imported European Warmbloods of every type- from German Holstieners, Hannoverians and Trakheners, to the Dutch, Danish, and Swedish Warmblood, and more. While the Europeans had been busily breeding these horses for Sport, the Americans had primarily ridden Cavalry remounts into the International scene. In comparison to the Europeans, the American breeding effort to produce horses of international caliber for the Sporthorses disciplines was practically nonexistent. So, we begin to import horses, in an attempt to "fast track" our competitive efforts.
The early imports were usually larger horses, of colder blood, with enormous bone and girth, but as time has passed, these heavier horses have given way to a lighter type. Just as the American Saddlebred is descended largely from Thoroughbred blood, more Thoroughbred has been infused into these Warmblood breeds, making them, amongst other things, more manageable as competitive ladies mounts. The door is opening again to competitive quality Sporthorse prospects, with movement and temperaments that suit the Amateur rider of today. What is more to the point, is that a market place exists, of enormous stature and potential, for the American Saddlebred to gain visibility and prominence. The Disciplines which are usually accepted under the Sporthorse heading include those which are also known as the Olympic disciplines; Show Jumping, Eventing (specifically three day at the Olympic level), Competitive Driving, Endurance, Dressage and most recently, Reining.