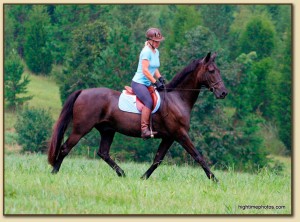 I found Virtuoso on Equine.com in August of 2004.  He was only four years old then, broke to be ridden.  Today, we are great partners, and he is a favorite horse of both the vet and the farrier.
Virtuoso is a very busy horse as we ride together almost daily.  I take dressage lessons, and we often participate in dressage schooling shows within 100 miles of our barn.  Virtuoso is a good student, and he always tries very hard to do his best.  Sometimes we bring a ribbon home from the show, and sometimes we don't.  But we always have fun and get a lot of compliments; he is a gorgeous horse !
We also do a lot trail riding.  We have completed many timed trail rides with the Yadkin Valley Hunt Club in Advance, NC, where we've earned blue ribbons.  Virtuoso is a great horse with a good brain and a big heart.
He will be my partner for the rest of life – – his or mine 🙂 !
Radka H.
North Carolina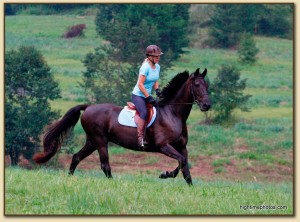 Photos above: Virtuoso and Radka competing at the Yadkin Vally Hunt club.  Both photos were taken by Christie Snyder of High Time Photography.
UPDATE Photos below: Virtuoso and Radka at a September 11, 2010, dressage show.   They earned 63% on both tests – Training 3 and 4!
_______________________________________________________________________________________
Photos below: In February, 2010, Virtuoso and Radka scored in the low 60's at Training Tests 1 and 2.  By July, they were showing Training Tests 3 and 4, with scores in the low 60's.
_______________________________________________________________________________________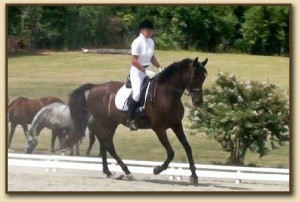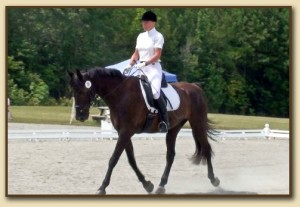 _______________________________________________________________________________________
_______________________________________________________________________________________
_______________________________________________________________________________________
_______________________________________________________________________________________