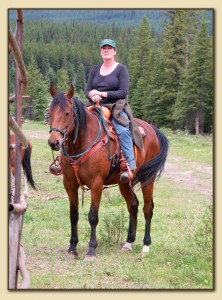 I have owned an ASB mare for the past year and a half.  She's very smart, confident, high-energy (without spooky), curious and and awesome – a solid, big-boned, 16 hh, gaited, old-style saddlebred – click here to view pedigree – I called her Pamina.
I bought her last May at the age of 7, had 60 days training put on her (she was just green broke, came from a breeder here in Alberta that had wonderful bloodlines in his herd when he gave up breeding and sold all his ASBs) and have used her in the Rocky Mountains since.  We're going to spend the next few years up in the hills.   She really seems to enjoy it, and is such a lovely ride, with beautiful, elastic, expressive movement and a forward manner.  I just enjoy her a lot, and am currently looking for a trainer locally that works with gaited horses to help me work with her more this winter.
Buying her and having her registration papers transferred to me meant becoming a member of the ASHA, and boy was that an eye opener!  The breed seems to really struggle to diversify this great horse, which can do anything!  (I'm going to have a local trainer teach both of us to drive one of these winters.   I'd love to have a sleigh – LOL.)
I'd love to be involved a little more, but Saddlebreds are nearly unknown in my area – there aren't more than a handful of breeders, and I've only ever met two three other people in person that own one.  One of them (ironically) is my friend and neighbour, whom I've known for a few years now, and from whom I've since purchased a foal in uetro. She breeds warmbloods and ASB-warmblood cross sporthorses for amateur riders.   I'm looking forward to the new foal next summer, an ASB/Consul baby I hope will be my jumper in 5 or so years!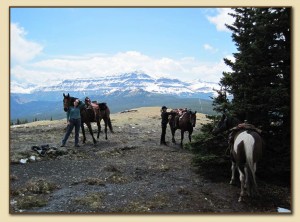 Gabrielle K.
Alberta, Canada