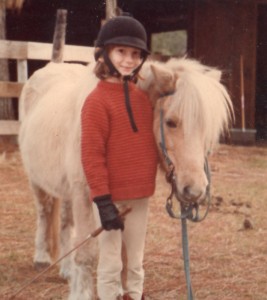 I grew up riding horses. It was in my blood from the very beginning. It was all I ever thought about or wanted to do. If I wasn't riding horses I was pretending I was a horse or playing with my toy horses or reading about horses, you get the picture. I got my first Shetland Pony, Lightning when I was three and before that I was riding double with my mother on her Saddlebred stallion. My mom also had a 5 gaited Saddlebred mare that I loved to ride. Lightning was a bit stubborn for a little kid, he never wanted to leave the barn. I figured out the only way I could get him to run at all was if he was headed back to the barn. I would drag him to the end of the field and then run all the way back to the barn, then turn around and drag him back down the field again. I would do this over and over, kind of like sledding. I had a couple other ponies throughout my childhood as well, there was Princess the slowest pony ever and Black Magic the jet black five gaited pony. Magic was a very cool pony and was perfect for my headless horseman Halloween costume.
_______________________________________________________________________
I got my first Saddlebred when I was 9 or 10. A bay mare named Rose Mars Glow. She was 4 years old and unbroken. My dad traded some embroidered caps for her. She was never easy, crazy some said, but she made me tough and a good rider. I'm not sure how we got into Saddlebreds, we lived in Quarter Horse country and there wasn't a Saddlebred show or trainer near us. I took some saddle seat lessons from a trainer that was about 60 or 70 miles away, too far to keep up for very long. We trail rode and I got into jumping and dressage but we had subscriptions to the Saddlebred magazines and kept up with what went on in that world. We would go to the shows and watch whenever we were in the Atlanta area.
_______________________________________________________________________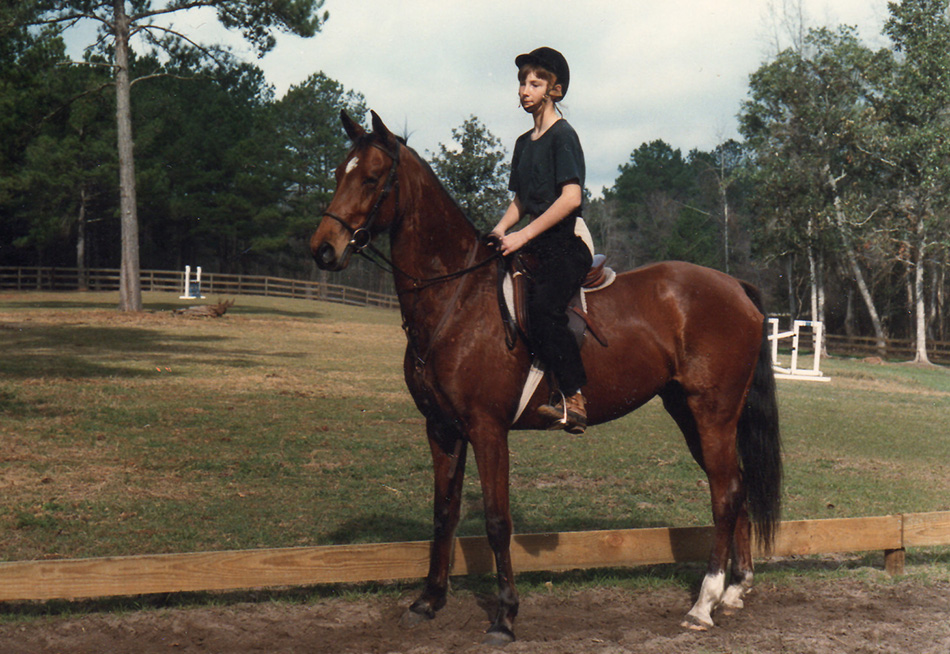 _______________________________________________________________________
In 1988 when I was 13 I saw an ad in Saddle & Bridle Magazine that William Shatner and his wife at the time Marcy, both breeders and promoters of Saddlebreds, were having a contest to give away one of their young horses. This was a promotion of the American Saddlebred as a western pleasure horse suitable for young people. It was coordinated by the American Saddlebred Horse Association and Saddle & Bridle Magazine. The contest rules explained that it was only open to kids under 18, each contestant had to make a video about why they should win the horse, show where the horse would live and demonstrate their knowledge about horsemanship and riding skills. I was home schooled and my Mom thought the project of writing and producing my own video would be a great project for me. I wrote my own script and my Dad used our old super huge VHS video camera to tape me. I did a demonstration on grooming, showed off our very modest barn, and galloped Rose Mare around our field. My Dad took me to a camera store that had video editing machines in the back and helped me splice it together into a 10 minute presentation that I titled Saddlebred Dream. Then I mailed it off, really not expecting to hear anything else about it.
About a month later I got a letter in the mail that said my video was picked as one of the five finalists and me and a parent needed to fly to Saint Louis, MO to the St. Louis National Charity Horse Show where the winner would be presented with the horse. We didn't have much money and my parents ran their own business so at first they said there was no way we could fly to Missouri, but with a bit of begging they decided that it was pretty awesome that I had been picked and they would figure out a way.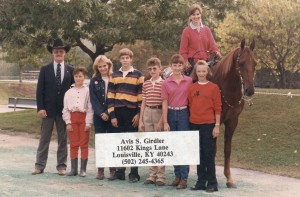 My Mom and I flew out together, my first time flying ever. Things were a lot different then, the Captain of the plane heard it was my first time flying and personally showed me the cockpit of the plane. When we landed in Saint Louis it was very late at night and took us a long time to collect our luggage and find a shuttle to our hotel. I think I was asleep but my mother tells me the shuttle ride was very scary, she said she didn't think it really was an airport shuttle because it was full of chains and the driver took over and hour to find our hotel. I don't really remember that part though. We were in Saint Louis for two or three days. The contestants were all introduced, we were photographed, interviewed and shown around Saint Louis. We did a tour of the Arch and went to the top in an elevator that resembled a washing machine. It was too foggy that day to see anything from the top though. Finally, we went to the stables and met the horse, Gambler's Habit. A glowing chestnut gelding, 3 years old. Sweet and calm but distracted by all the people and commotion.
Then the final night of the big show arrived. There was the Championship Western Pleasure Saddlebred class that showcased this new style of riding Saddlebreds. Then William Shatner rode Gambler into the arena and did a little demonstration on him. Then the contestants all walked into the arena. Each of our names were put into William Shatners hat. I was really nervous about having to stand in the arena with introductions being made over the loudspeakers and all eyes on us. My Mom was somewhere in the crowd but I couldn't see her. Then a single name was drawn out of the hat. Honestly, I don't even remember my name being called. I was too nervous and it never dawned on me that I could possibly win so I guess I wasn't listen very close. Then everyone turned to me and was congratulating me and I heard my Mom yelling from the stands. I didn't pass out but I don't remember anything about the rest of the night. Sadly my Mom's camera broke so we only have one photo from that night that we bought from the show photographer.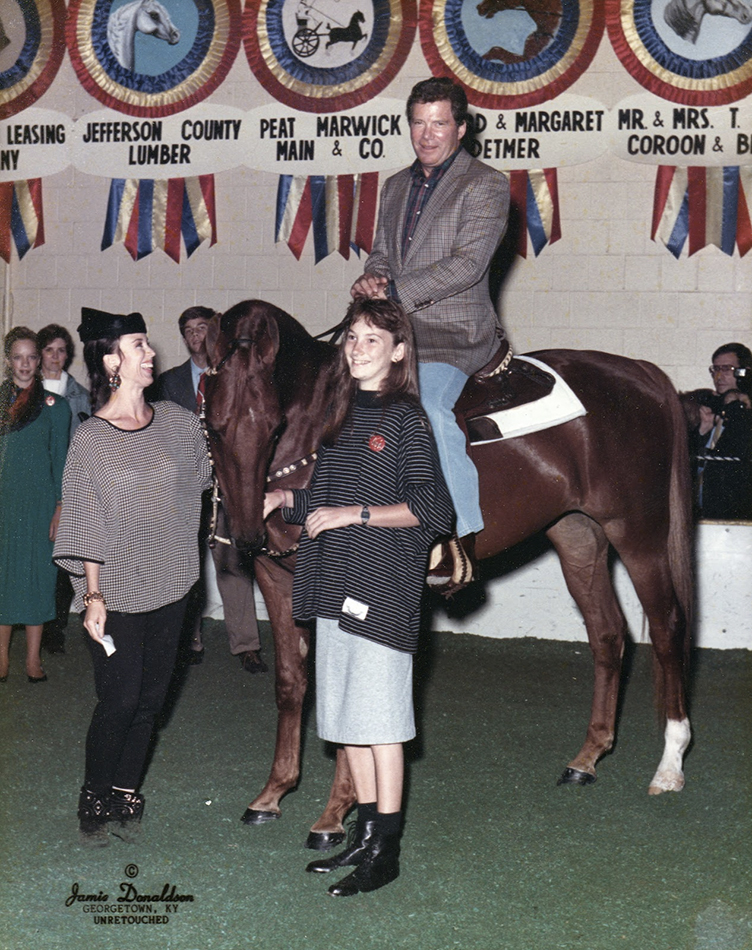 _______________________________________________________________________
The next day we had to fly home. We were busy packing and getting to the airport. My mom was calling home and telling everyone the news. I wanted to go back to the stables and meet MY HORSE, I couldn't believe it still, but there was no time. We flew into some bad weather and fog in Atlanta and were delayed in the air for probably an hour. I got motion sick from all the dipping and circling.
Once we were home we had the challenge of figuring out how to get Gambler home. Shipping was not included in the deal and shipping a horse can be very expensive. My mom took care of most of the details. They had moved him from Missouri to Kentucky and were stabling him there until we could have him picked up. We ended up having him put on a truck line that was moving a bunch of race horses from Kentucky to Ocala, FL so we got a little discount. The truck wasn't going to go out of his way though to drop Gambler at our farm so we had to meet them somewhere near an I-75 exit. We drove down to Lake City, FL and met them at a farm called Valhalla, about two hours from home. It was a very quick exchange, they were in a hurry to get back on the road. It was a little embarrassing getting him off that snazzy horse semi full of glossy race horses and loading him on to our rusty open stock trailer.
_______________________________________________________________________
On the way home we had to stop at the agricultural inspection station and since Gambler had traveled such a long way and was crossing the state line into Georgia once more the inspectors were very thorough. He had shipping wraps on and the inspector told me I had to get in the trailer and take off the wraps so he could make sure all his leg marking matched what was on his paperwork. I was a bit uncomfortable, I really didn't know this horse at all and crawling in the side hatch door of the trailer and basicly under him to remove the wraps was scarey. He didn't move though and was a very good boy. I think that was where a lifetime of trust started.
Once home he had some serious adjusting to do. Culture shock. I don't think he was very happy with his new home for quite a while. He came from southern California, a super snazzy stable with climate control and no flies. He was strictly stall kept and that is the way he liked it. Our horses lived outside in the weather, had to swat their own flies and only came into their stalls to eat or if the weather was really bad. He didn't like being outside and had to be dragged out of his stall, he quickly developed a fly allergy, was hot in the summer and shivered in the winter and had no idea how to eat grass. Seeing a horse that didn't know how to graze was actually pretty funny. He had some instinct that made him give it a try but he would pull the grass up by the roots and then end up eating dirt and then spit the whole mouthful out and look like he just didn't get it. Eventually he got better at it. I got the vet to give him allergy shots, I bought him a big warm fleece lined blanket for winter but he always did like being in his stall better than being outside.
He was trained in western pleasure, a new class in the Saddlebred world. The contest was actually intended to promote this new way of using Saddlebreds. The problem was in my part of the country the only western pleasure classes were for Quarter Horses and anyone who knows a little bit about horse knows that these two breeds are about as different as they get. I had never ridden western either and it really didn't appeal to me. I had been taking dressage and jumping lessons on Rose Mare so I gave that a try with Gambler. He was a natural jumper. Jumped like a deer and loved it. The dressage wasn't as easy for him. He had been trained his whole life to take tiny short steps for the western classes and carry his head long and low, not at all typical for a Saddlebred. Saddlebreds normal carry their heads high and are high stepping as well. He was so easy and smart though that he could learn anything you wanted to teach him.
I was in Pony Club from the age of 11 until I graduated out at 21. I took Gambler to all the rallies, Dressage, Jumping and Eventing. And though we never got the best scores in the extended movements in dressage we always did well with accuracy and collection. We also had fun learning some advanced moves like flying changes and the pirouette. We did fun shows with costume classes, sit a buck, pole bending and barrel racing. I took a polo clinic on him. I also took him to police horse training school and shot guns off him. In 1996 when the Olympics were held in Atlanta, GA I lent Gambler to the Pentathlon athletes to train on. We trail rode all the time with groups and off by ourselves. We had many adventures exploring our woods or neighboring farmland. Gambler loved to go swimming and would lay down in any puddle we came to if I wasn't paying attention. He was also a form of transportation before I could drive. I would ride him to my friend's house if no one could take me. I rode him in parades and use him to calm or pony other horses. I could ride him with no saddle or bridle only a string around his neck. I have never trusted an animal as much as I trusted him. I could put any non-rider on him and know that they would be fine. In his old age I let my little niece and nephew ride him around the yard or practice cleaning out his hoofs. I knew he would never step on them or do anything stupid. They liked riding him much better than their own cantankerous ponies.
_______________________________________________________________________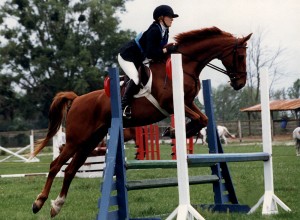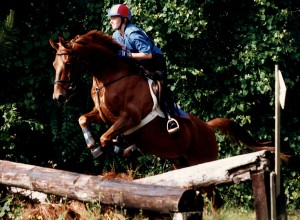 _______________________________________________________________________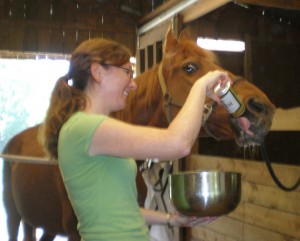 He loved beer, broccoli and pepper mints. He would knock you over for a beer and we could put it in his water at shows to get him to drink more. That caused a few problems at the Pony Club rallies where no one in the barn was over 21 and I show up with beer. Trying to explain it was for my horse proved difficult. He always got candy canes in his stocking at Christmas and would eat the wrapper and all if I wasn't careful. He drooled when he slept and sometimes there would be a strand of drool that went from his mouth all the way to the ground. He love his ears to be rubbed and his belly scratched and would groan and lean into me almost falling down. He loved the ladies too and would get terrible crushes on any new mares that came to our barn.
_______________________________________________________________________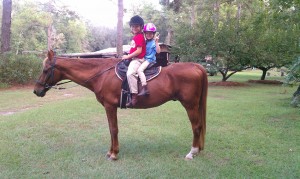 Gambler passed away on June 3 2012. He was 27 years old. He had been in good health his whole life, he was never lame and only had some mild colic a few times. Over the last 6 months though he had become very thin, despite all the extra feed, alpha, weight gainer and corn oil I gave him he still lost weight and didn't have much of an appetite. The vet said he had developed Cushing's Disease which is very common in old age so his coat was shaggy even in the summer. He had gotten very weak as well, I didn't let the kids be around him very much because he tripped a lot and I was afraid he would fall. In the end he did go down and was too weak to get up. He was too weak to even lift his head but not too weak to drink one last cold beer before he went. That day was one of my worst. The grief is no different than losing a family member or a best friend, he was both. We had been together for 24 years, two thirds of my life. Those years were the best times of my life as well. Not just because of him but those were the years of riding every day, being a kid, horse shows, Pony Club, high school, college, best friends and big dreams. So his passing is also an end of an era for me as well. It has been over for a while, I have had plenty of years so far of work, bills, marriage and mortgages. But it really seems over now. I spent weeks going through old photos of my riding days and the magazine articles about the contest. All my memories of him are now in a storage box in my closet at my Mom's house. This is the first time in my life I haven't had a horse, no reason to go to the barn. I haven't ridden in years because he was too old to carry me but I still went to the barn almost daily just to brush him, scratch his belly or share a beer. I might get another horse one day but none will ever compare. I miss him every day.
Winning Gambler was a once in a lifetime experience, but the best part was getting to spend 24 years with my once in a lifetime horse.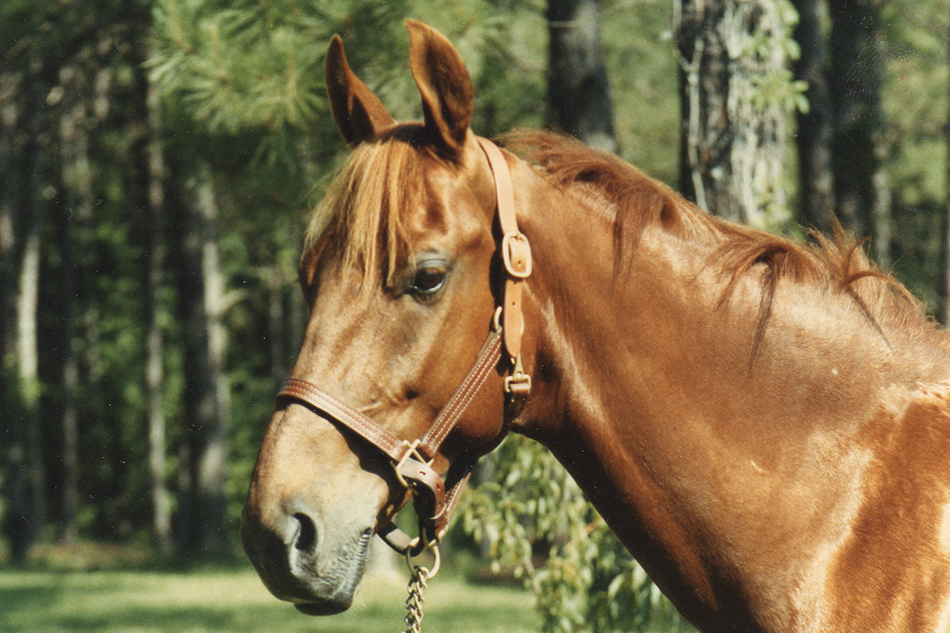 _______________________________________________________________________